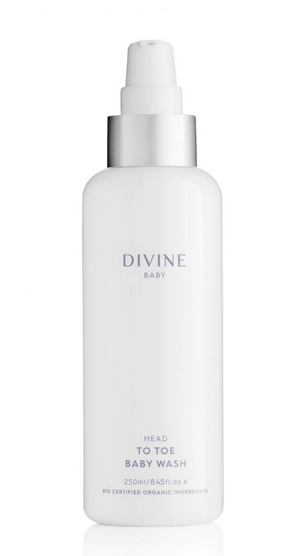 On Sale
DIVINE BABY HEAD TO TOE BABY WASH 250ML
Divine Baby Certified Organic Head To Toe Baby Wash relaxes your baby while gently cleansing the skin leaving it clean, soft and supple. Pure and gentle for daily use.
The pure essential oils (suitable newborn babies) of Lavender and Chamomile calm and soothe. The Aloe Vera, Jojoba, Honeysuckle and Rooibos Tea combine to leave the skin soft and beautiful. The Divine Baby collection contains only premium quality certified organic, nutrient and antioxidant rich ingredients.  Our collection is free from synthetic chemicals, endocrine disrupting, neuro and immune toxic ingredients. This product is safe for Mums and for babies of all ages, including newborns.
Made from 81% Certified Organic Ingredients and 100% Naturally Derived and Plant Based Ingredients. All our products are Made In Australia!