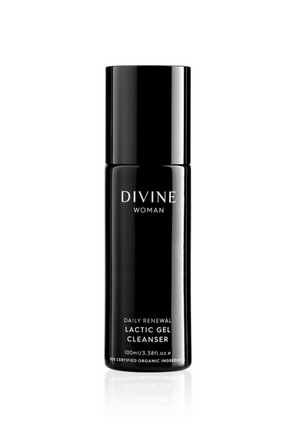 On Sale
DIVINE WOMAN DAILY RENEWAL LACTIC GEL CLEANSER 100ML ~ ACO CERTIFIED ORGANIC
Our gentle foaming cleanser infused with skin refining botanically sourced lactic gel to support the skin resurfacing process revealing younger looking, renewed skin. We recommend to use on regular basis for improvement of skin texture and brightness, reducing the appearance of fine lines and wrinkles. Suitable for daily use on Oily / Combination skin or as a gentle occasional peel on all skin types.
APPLICATION
Place a small amount onto dampened fingertips and apply to the face, neck and décolletage. Massage into a lather in a circular motion. Leave for up to 20 seconds then remove with a warm, damp face cloth and pat dry. For a more intense resurfacing treatment, leave on the skin for 10-20 minutes.
KEY ACTIVE INGREDIENTS
Bearberry Extract – A natural extract that reduces excessive sebum, promotes skin brightness, reduces redness, and contains calming anti-microbial properties.
Liquorice Extract – An anti-inflammatory ingredient that helps to eliminate acne causing bacteria. Liquorice Extract reduces the redness of sensitive skin with prolonged use as well as improving dark spots and pigmentation.
Witch Hazel – A soothing astringent that acts as an anti-inflammatory to cleanse and cool the skin. Its calming properties leave an optimum surface to follow with cleansing and hydration.
Lactic Acid – A gentle plant based, alpha-hydroxy acid that dissolves the 'glue' that holds dead skin cells to the skin for a resurfacing and renewing effect.
Made from 86% Certified Organic Ingredients and 100% Naturally Derived and Plant Based Ingredients.
This product is also Cruelty Free, Vegan, Gluten Free and Australian Made.